When it comes to eating out, countless people crave experiences that transcend basic nourishment. The world is teeming with extraordinary restaurants that provide more than just delicious meals. From their exotic locales to their visionary concepts, these establishments redefine the limits of culinary brilliance. In this compilation, we present a selection of the most distinctive restaurants globally, where you can embark on an unrivalled gastronomic journey.
Ithaa Undersea Restaurant - Rangali Island, Maldives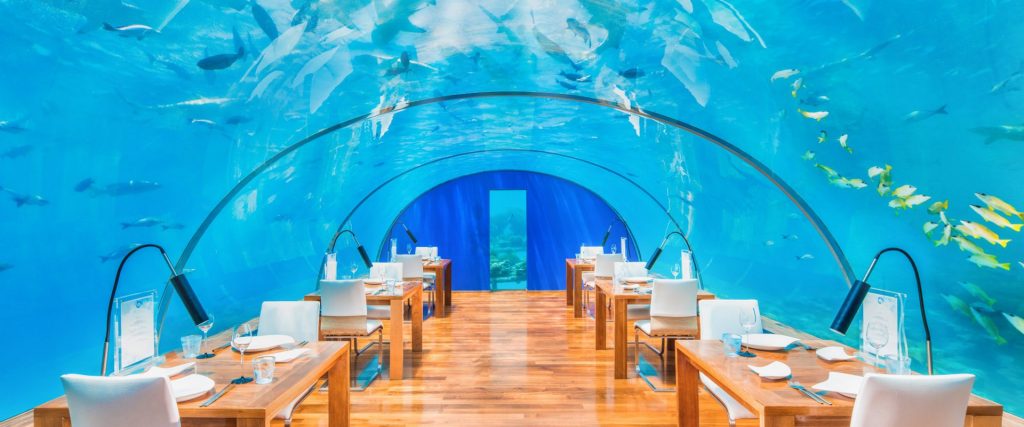 Submerged 5 metres beneath the Indian Ocean, Ithaa Undersea Restaurant at the award-winning Conrad Rangali Island in the Maldives offers a truly immersive undersea dining experience. Accessed by a short boat ride, guests can marvel at the vibrant aquatic life surrounding them while indulging in gourmet cuisine. This stunning adults-only underwater establishment creates an ambiance of unparalleled elegance and is hailed for its fusion of global flavours.
Grotta Palazzese - Polignano a Mare, Italy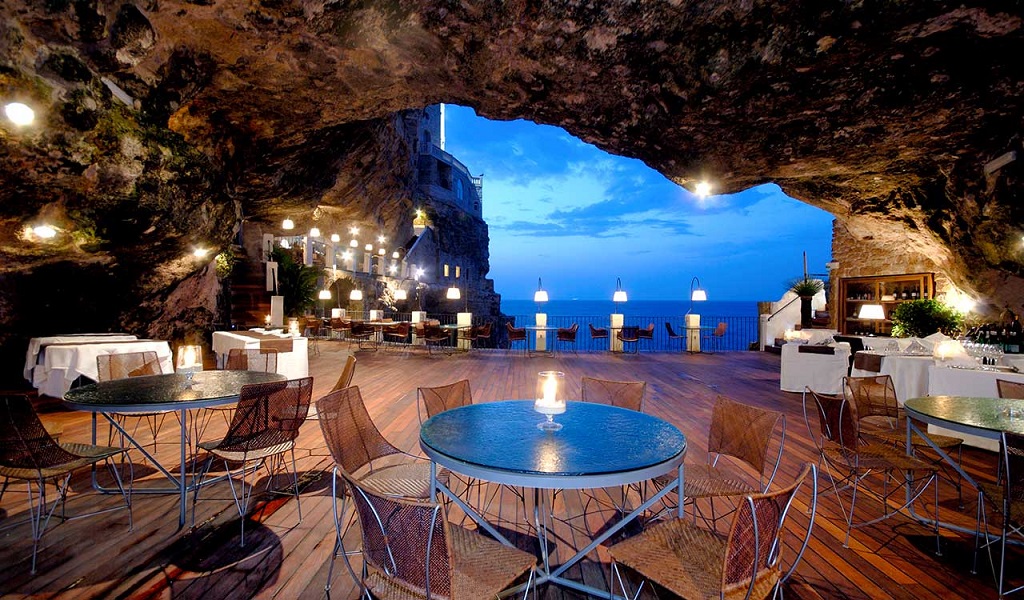 Tucked within a limestone cave overlooking the Adriatic Sea, Grotta Palazzese offers an enchanting setting in Polignano a Mare, Italy. Accessible via a picturesque stone staircase, this majestic restaurant captivates diners with its awe-inspiring views. The menu showcases delectable Italian cuisine, featuring fresh seafood and regional delicacies that perfectly complement the magical ambiance.
Dinner in the Sky - Worldwide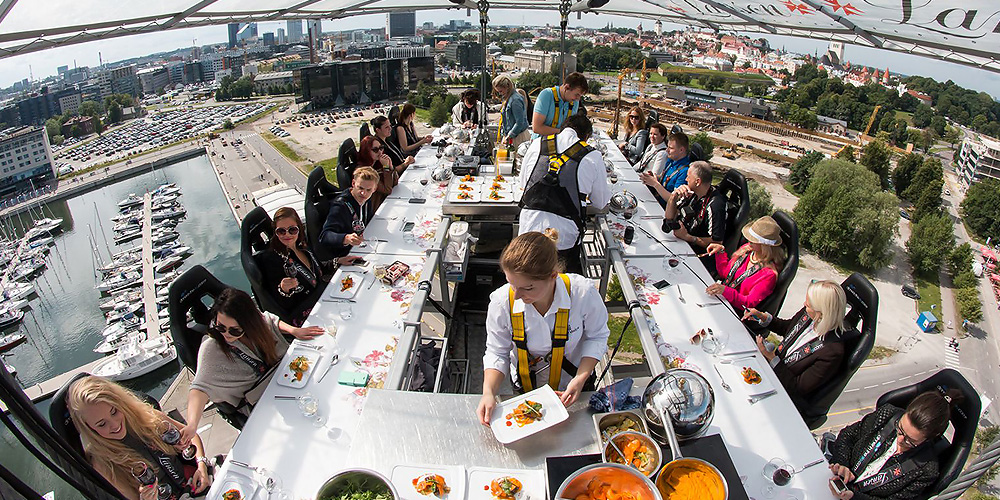 Dinner in the Sky takes the concept of dining to new heights. Operating in various locations around the world, this extraordinary restaurant elevates guests up in the sky in a suspended dining platform. Accessible through ticketed events, patrons savour gourmet dishes while enjoying unparalleled views of iconic landmarks. The sky-high experience has left diners in awe of the breathtaking scenery and the sensation of dining amongst the clouds.
Giraffe Manor - Nairobi, Kenya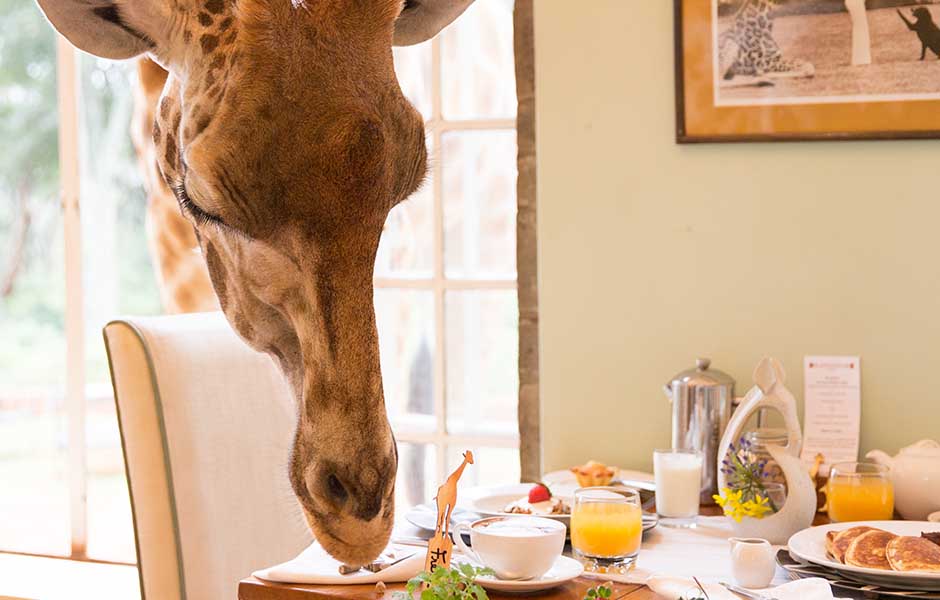 Giraffe Manor in Nairobi is a charming boutique hotel that provides an extraordinary dining experience with its resident herd of giraffes. Accessible by road, guests are greeted by these gentle giants, who often poke their heads through windows during meal times. The menu offers a blend of international and Kenyan cuisine, creating an unforgettable interaction between wildlife and guests.
Cabbages & Condoms - Bangkok, Thailand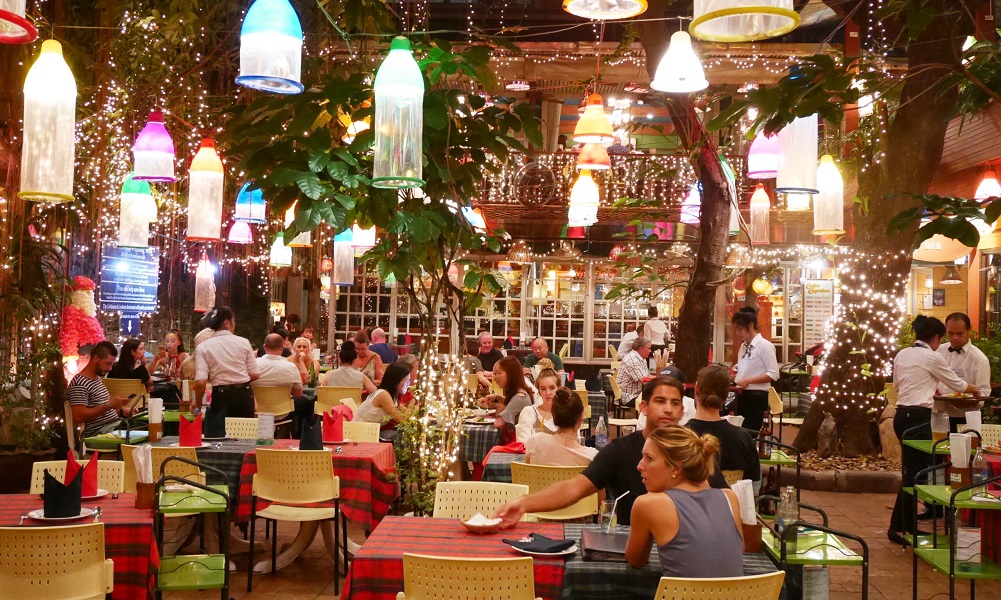 Cabbages & Condoms, located in Bangkok, Thailand, is a unique restaurant with a noble cause. This eatery advocates for safe sex and supports a foundation dedicated to population and community development; The Population & Community Development Association (PDA) with programs in primary health, education, HIV/AIDS, rural development, environment and water. Patrons enjoy traditional Thai cuisine, and the restaurant's quirky decor, adorned with condoms, promotes a light-hearted and socially conscious dining experience. The award-winning Cabbages & Condoms is acknowledged as one of the finest Thai restaurants in Bangkok and regularly seats 400 guests at a time.
The Rock - Zanzibar, Tanzania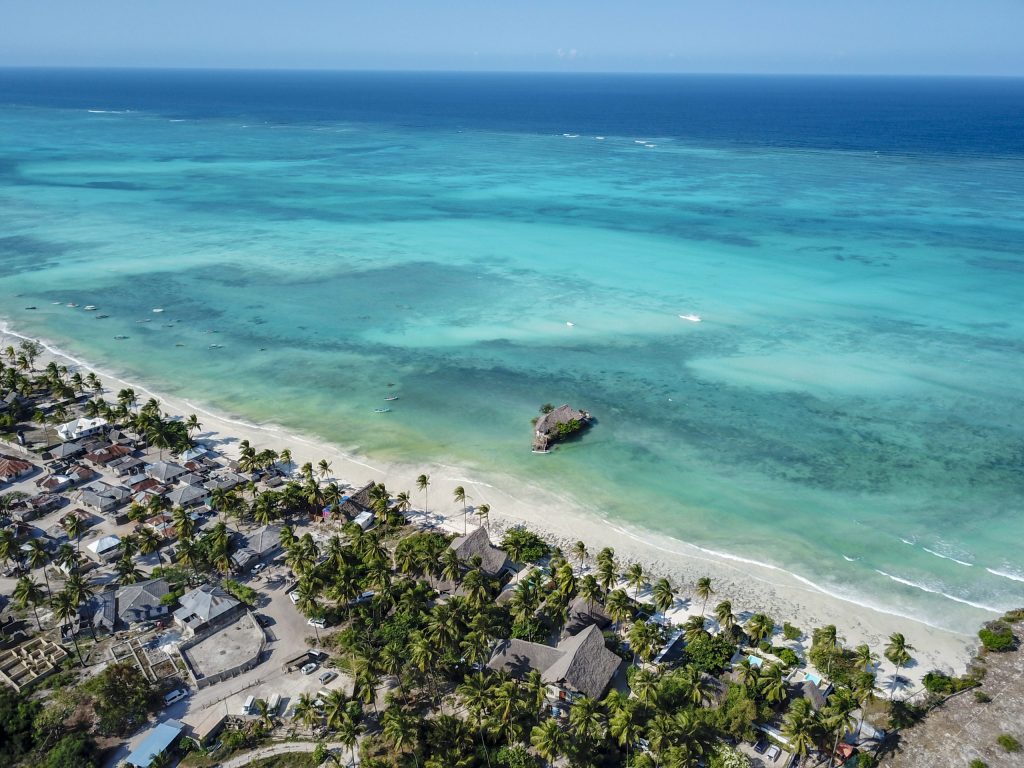 Perched dramatically on a rock formation in the Indian Ocean, The Rock restaurant in Zanzibar offers a truly unique dining experience. Accessible by boat during high tide and by foot during low tide, guests relish the stunning panoramic views while enjoying a delightful seafood-centric menu. This renowned seafood destination has garnered praise for its exceptional service and unforgettable sunset vistas.
Dinner by Heston Blumenthal - London, United Kingdom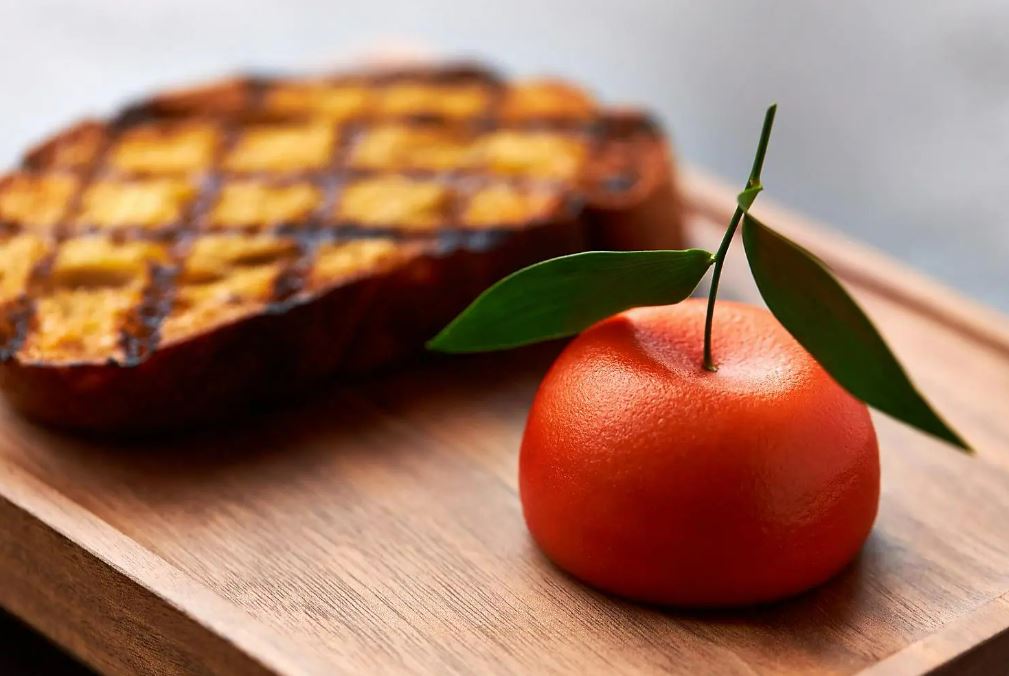 Located in London at the Mandarin Oriental Hyde Park, Dinner by Heston Blumenthal takes diners on a culinary journey through time. This Michelin-starred restaurant showcases historically inspired British cuisine with a modern twist. Guests are enthralled by the innovative menu and the culinary wizardry of the world-renowned chef, making it a truly unforgettable dining experience.
Dinner by Heston Blumenthal Dubai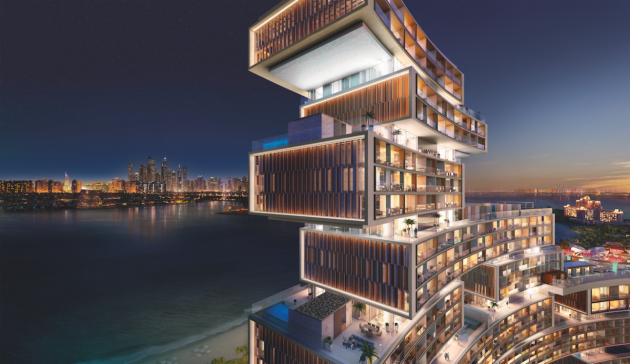 Situated in the newly opened Atlantis The Royal Dinner by Heston Blumenthal restaurant offers diners a cutting-edge take on historic British cuisine dating back to the 1300s. A rare gem for seasoned gastronomes and connoisseurs, this unique and stunning restaurant takes you on a delightful promenade through the kitchens of medieval Britain through contemporary eyes.

MICHELIN-star chef Heston Blumenthal embarked on a journey to create a menu that transports historical discoveries and fascinations into a new and evolving modern dining experience. His iconic and signature dishes such as the Meat Fruit, a playful mandarin and chicken liver parfait, and jovially named Tipsy Cake, a spit roast pineapple dessert circa 1810, are world-renowned.
O.Noir - Toronto, Canada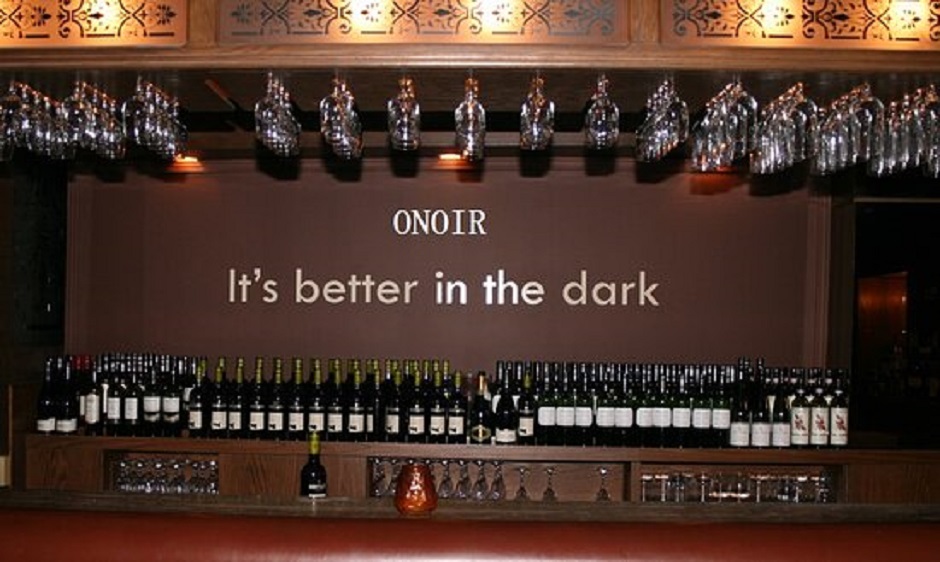 Dining in complete darkness at O.Noir in Toronto, Canada, is an experience that challenges your senses. Blind or visually impaired waitstaff guide patrons through a culinary journey where taste, touch, and smell take centre stage. This restaurant encourages diners to appreciate food in a whole new way, without relying on sight.
El Diablo - Lanzarote, Spain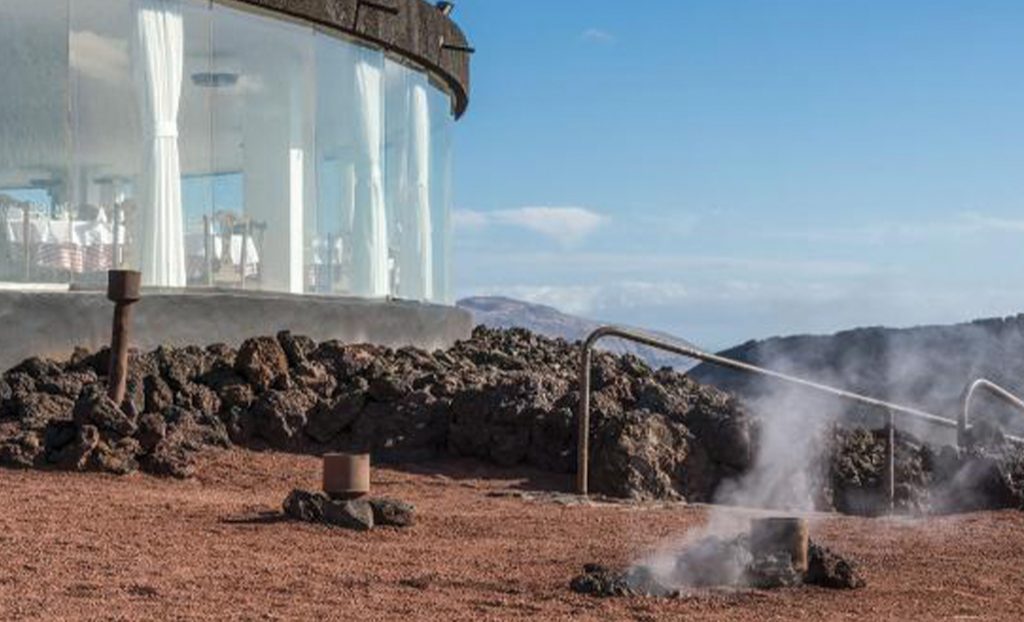 Situated on the volcanic Canary Island of Lanzarote, El Diablo offers a dining experience like no other. Built atop a dormant volcano, this restaurant grills its delicious specialties over a natural heat source emanating from the volcanic crater itself. Accessible by road, visitors are awe-struck by the breathtaking panoramic views while relishing mouth-watering volcanic-cooked cuisine.
Venturing beyond traditional dining norms, these unique restaurants offer remarkable experiences for adventurous gastronomes worldwide. They redefine dining expectations, capturing the imagination of food enthusiasts across the globe. From volcanic cooking to underwater marvels and socially conscious establishments, each venue delights diners with a blend of extraordinary cuisine and unforgettable ambiance. No matter if you're dining on an island, or in complete darkness these incredible culinary adventures promise to create memories that will linger long after the meal is over. Whether accessed by land, sea, or sky, these restaurants have left an indelible mark on their guests, making them true epicurean destinations for those seeking unparalleled dining experiences. So, embark on a gastronomic journey and indulge in the extraordinary.