by Michelle Sutton
Darwin To Broome
27 September 2023
My first Expedition cruise and I am totally hooked on all three things: Ponant, The Kimberley region and the explorative, physical, and educational style of expedition cruising.
Gorgeous ship, delicious French food and wines, engaging entertainment and activities, spectacular scenery with exciting wildlife and sunny warm weather and adventurous, engaging people and fun!
Ponant; Le Soleal
Ponant's ships are all sleek and modern looking, like an oversized super yacht, so it was very exciting when we saw Le Soleal in Darwin harbour for the first time. Once onboard, the interior is the same, contemporary with neutral colours and clean lines.

With Le Soleal being a small ship [ Passenger capacity 244 and only 18 m in width]
The main lobby area reminded me of a river cruise ship in the size and the fact that you could step out onto a deck either side.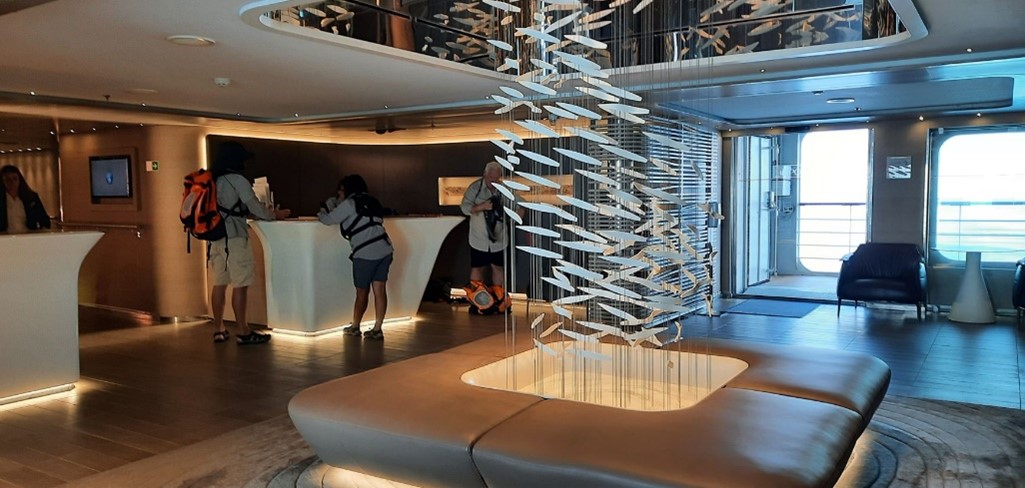 I felt at home straight away on this ship, it has an intimate easy feel that I think comes from the ship and the staff [ and possibly the French champagne that was offered on arrival and then free flowing throughout the cruise!]
My favourite space is the beautiful Panoramic lounge at the front of the ship on the top deck. It is just that – a lounge with comfortable sofas and chairs, a well-stocked library, grand piano, bar and fantastic view over the observation deck and bow.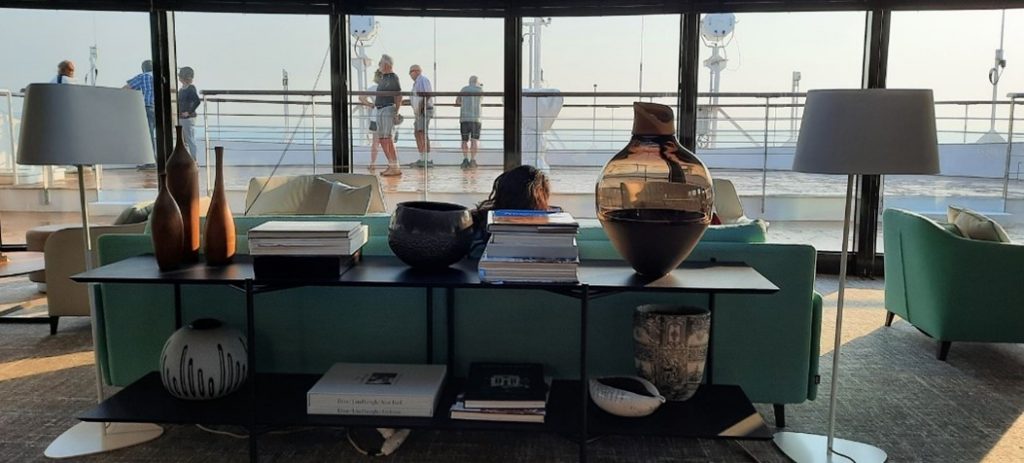 We were in a Prestige stateroom [ #611] on deck 6 – the top deck. The cabins are also contemporary in décor and has so many thoughtful features. I loved the floor to ceiling glass window in the bathroom allowing you a view outside if you wanted it and a separate room for the toilet.
We had a our own Ponant aluminium water bottles [ to keep], Nespresso coffee machine and wired in electric kettle, Bose Bluetooth speaker, minibar and well stocked fridge and twice daily replenishment of Carafe's of both still and sparkling water. 
We had many a sunset cocktail at my favourite bar - the open-air bar looking down over the pool and the huge French flag at the stern of the ship.
Re the pool – it was lovely to have, and it was thoughtfully emptied and refilled every second night because it got very warm!
Everything is included on a Ponant cruise and that creates such a relaxed atmosphere around socializing with new acquaintances over drinks and a meal.
French champagne featured throughout the cruise! We had a couple of expeditions where we were surprised and delighted with a glass of champagne in a beautiful and unique location. They were truly magical moments!
Of course, the food was fabulous, and we could dine in our room 24/7 or choose between 2 restaurant's; the formal a la carte on Deck 2 or the Grill restaurant for buffet on the pool deck. I loved dining al fresco in the balmy warm evenings.
To me the Ponant staff also make the brand very special. They are efficient, professional and friendly like all ship's crew, but they all also came across as very happy, personable and very proud of their ship and team. This stemmed from the captain down.
He was not only there to greet us onto the ship on embarkation, but also from returning from each expedition if he could. We got to swim off the back of the ship and to our delight the captain gave staff their turn after us. It was just as much fun to watch them [ and try to work out who was coupled up!] as it was to play in that divine water ourselves.
One Indonesian waiter in the restaurant asked us if we'd like to try his grandmother's special sauce when an Asian BBQ was featured one lunch. It was delicious, I got the recipe off him and love that the crew are happy and comfortable enough to able to express their personality. You don't get this a lot on cruises.
The Bridge had an open-door policy between certain hours and the officers were keen to explain the equipment and processes and always made us feel welcome. Something different was that a spotter is always there with his binoculars!
This guy is on the look out for wildlife in the water.
They also ran Engine room tours for those who wanted to see it. We did and it was fascinating especially the recycling of water and waste systems.
[Sustainability and preserving the environment they sail in is huge for Ponant]
Expedition cruising is all about the destination; the nature surrounding us and our interaction and knowledge of it. This means the guest interaction with the Expedition team is constant and hugely rewarding, whether it be the intimate time in the Zodiac, watching for whales, crocodiles or dolphins alongside them on the observation deck or attending their daily briefs and special interest talks in the theatre. This passionate team of Expedition guides are amazing! They live and breathe their interest in the region and its wildlife and landscapes as well as astrology, geology and photography. I learnt so much and I love that I came away from a wonderful holiday having learnt many new things!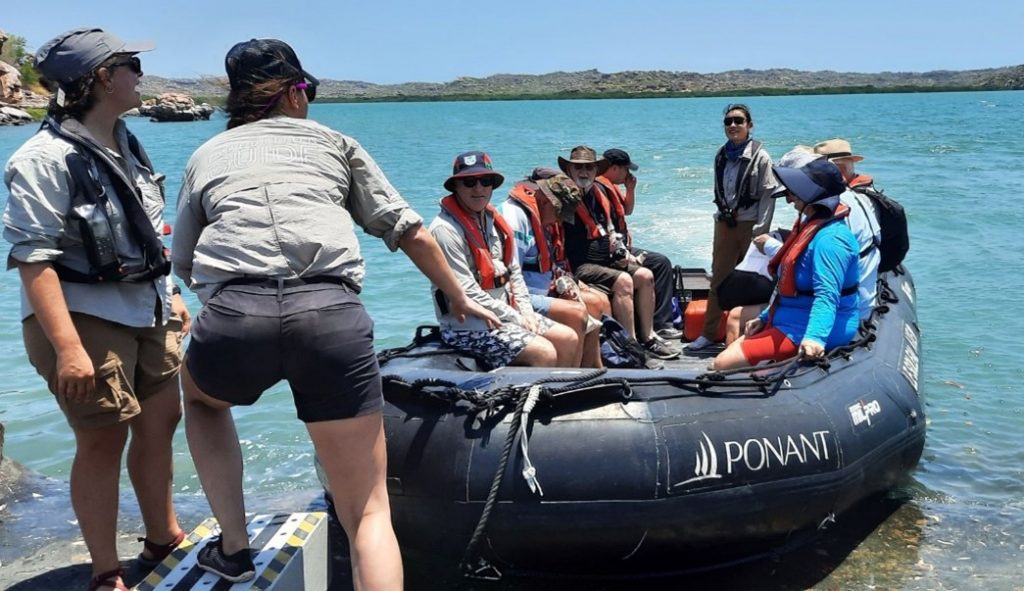 The Captain and Expedition team stressed the importance of safety in the dangerous environment we were in and I always felt safe when out in the Zodiac due to the fact all guests knew what we could and couldn't do. ie no hands or feet in the water due to a crocodiles!
Ponant is a French cruise line and most of the staff are French, or they speak it, as well as English and often other languages. The announcements were in English and then French however each Zodiac outing was with either a French or English-speaking guide. They did well with this, and I loved hearing the French spoken around me and greeting other guests in French each morning, however I think clients should be aware of this when considering a cruise on Ponant.
I was surprised and delighted by the entertainment on the ship. My expectation was that with Le Soleal being such a small ship and the focus of the cruise being Expedition, there would be very little entertainment. I was wrong.
We had onboard a classical Pianist and two sets of singing duo's who took turns to entertain us in the Main Lounge in the evenings [and on the White night up at the Outside bar for an awesome party!]
They also sang live at lunch. Each lunchtime a table with an awning was set up by the pool to add a special featured food to our buffet lunch options. Both features made lunch a festive and fun time.
There was also a fun Casino night with Ponant money, high tea each day accompanied by classical music, a hands-on pastry lesson and my expected optional talks on the local geology, wildlife, astrology, aboriginal culture and art etc.
One of the talks was on photography which I learnt so much in! The guide who took that was a Murray, a 19-year-old expert and enthusiast on birds and photography from Cairns. He was so knowledgeable, engaging, patient, helpful and passionate.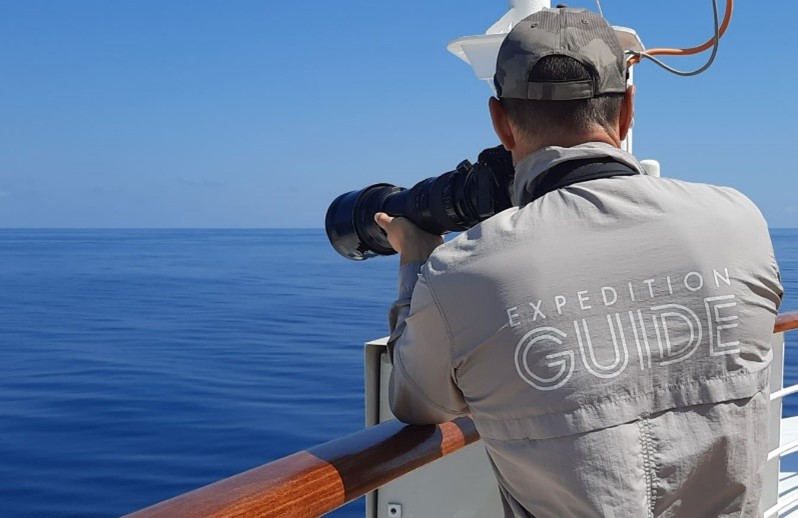 As were all the Expedition team – they were just a bit older and with degrees in their specialist fields!
All in all, I can't wait to cruise with Ponant again – any ship, anywhere!
The Kimberley's;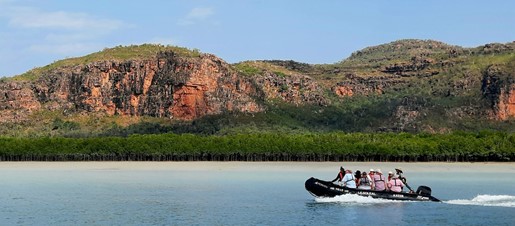 It is hard to grasp just how vast and beautiful this wild and remote region is!
One excursion we were excited to take from Wyndham was a flight over the Bungle Bungles - truly amazing spectacle! It made me want to also explore this region more. Many fellow clients had incorporated a land tour or self drive stay in the region as well as the cruise to see its features on the coast.
It is worth making the most of being in that region at the time.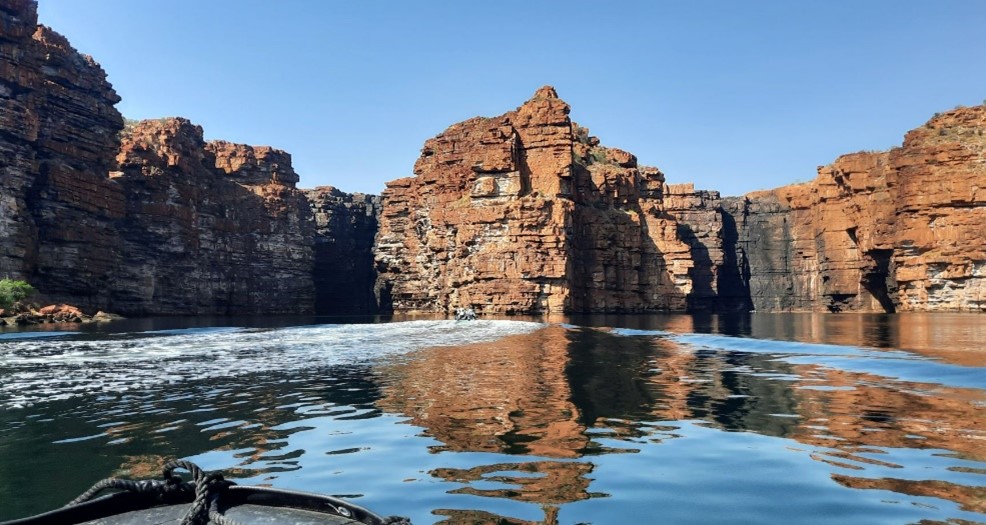 The Kimberley's has interesting World War Two history as well as Aboriginal history, culture and rock art dating back thousands of years. It also has exciting wildlife [and an abundance of it!], but its biggest drawcard is the stunning landscapes and features you don't find anywhere else in the world.
The Montgomery reef, 400 sq. kilometres of reef [ the largest inshore reef in the world] gets exposed twice daily by the extreme drop in tide [ one of the largest in the world] to create a magical phenomenon of sight and sound! Truly unique and exciting experience.
Also, there is the Horizontal falls in Talbot Bay – a natural wonder from tidal surges again that is unique.
Kimberley is vibrant colour in the landscapes, sunsets and sunrises, the sights and sounds of the exciting wildlife that is in abundance, the warmth of the sun, the cultural interest to see and hear and so remote it feels untouched at every turn.
I can't wait to go back and see more.