New to cruising? What you need to know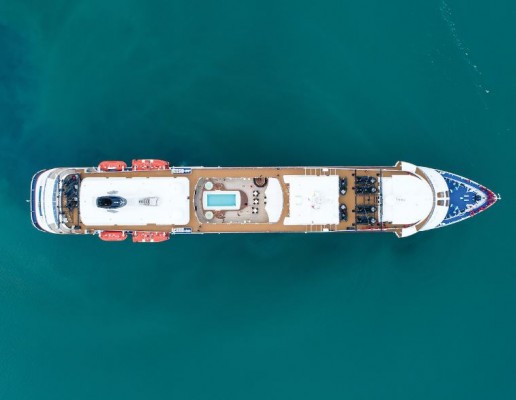 Everyone knows someone who loves cruising, but if your first thought when talking travel with them is "I'd never go on a cruise", then maybe it's time for a rethink.
For a start, cruise ships vary in size and type from traditional sailing vessels to small, mid-size, large, luxury and expedition ships – and megaships that are like sophisticated resorts.
You can take a cruise that lasts a couple of days, a week or more, or one that circumnavigates the globe over three months – there's a vast range of itineraries to suit all budgets and lifestyles. However, you're never 'stuck' on the ship – going ashore to explore different places is what cruising is all about.
As to where in the world you can cruise – that's pretty much anywhere 'girt by sea'. Indeed, many destinations are best experienced by ship – it would be pretty challenging to navigate the Alaskan wilderness by road; island-hopping in the South Pacific or the Caribbean or the Mediterranean is, well, no fun unless you're doing it by sea; and flying over Antarctica just doesn't cut it for adventurous travellers.
Whatever type of cruise you choose, once you board the ship your accommodation, meals, and transport from place to place are taken care of. There's no need to plan routes, book hotels, pitch a tent, find restaurants, shop for supplies or do any cooking or washing-up. As any seasoned cruiser will tell you, 'unpacking once' is one of the big drawcards of cruising. Add having entertainment, cafes, bars and onboard activities a short stroll from your room, and your holiday is sorted.
Because there is so much choice, finding the best cruise for your lifestyle and budget is more complicated than jumping online and booking a flight or a resort holiday. This is why most experienced cruisers book through expert cruise travel agents who can pinpoint what type of ship, itinerary, destinations and cruise style will suit every individual.
For example, if you're looking for a romantic escape with your beloved, booking a cruise on a large, family-friendly ship during school holidays locally or overseas is not the best option – a boutique luxury ship sailing in French Polynesia is more likely to appeal. Conversely, if you want a holiday that caters for an extended family or group of friends, a megaship decked out with dozens of restaurants, cafes, bars, adventure activities such as zip-lines and rock-climbing walls, entertainment and kids' clubs ticks a lot of boxes.
Cruise styles vary enormously, too. Do you enjoy dressing up for dinner or prefer a laid-back ambience? Are gyms and fitness programs a priority? Are you looking for a busy onboard social life or an adventure far off the beaten track?
Another important consideration is what is included in your fare. What might look like a bargain cruise is not necessarily the best value – a very different prospect – again, a specialist cruise travel agent can navigate all these complexities and help you find the perfect cruise for you.
A word of warning: once you've discovered what all those avid cruisers already know, you might become a cruise addict yourself!
If you need help deciding on the right cruise for you, contact one of our cruise experts:
Donna Hill: Ph: +64 9 950-2886
Michelle Sutton: ph: +64 9 320-1525